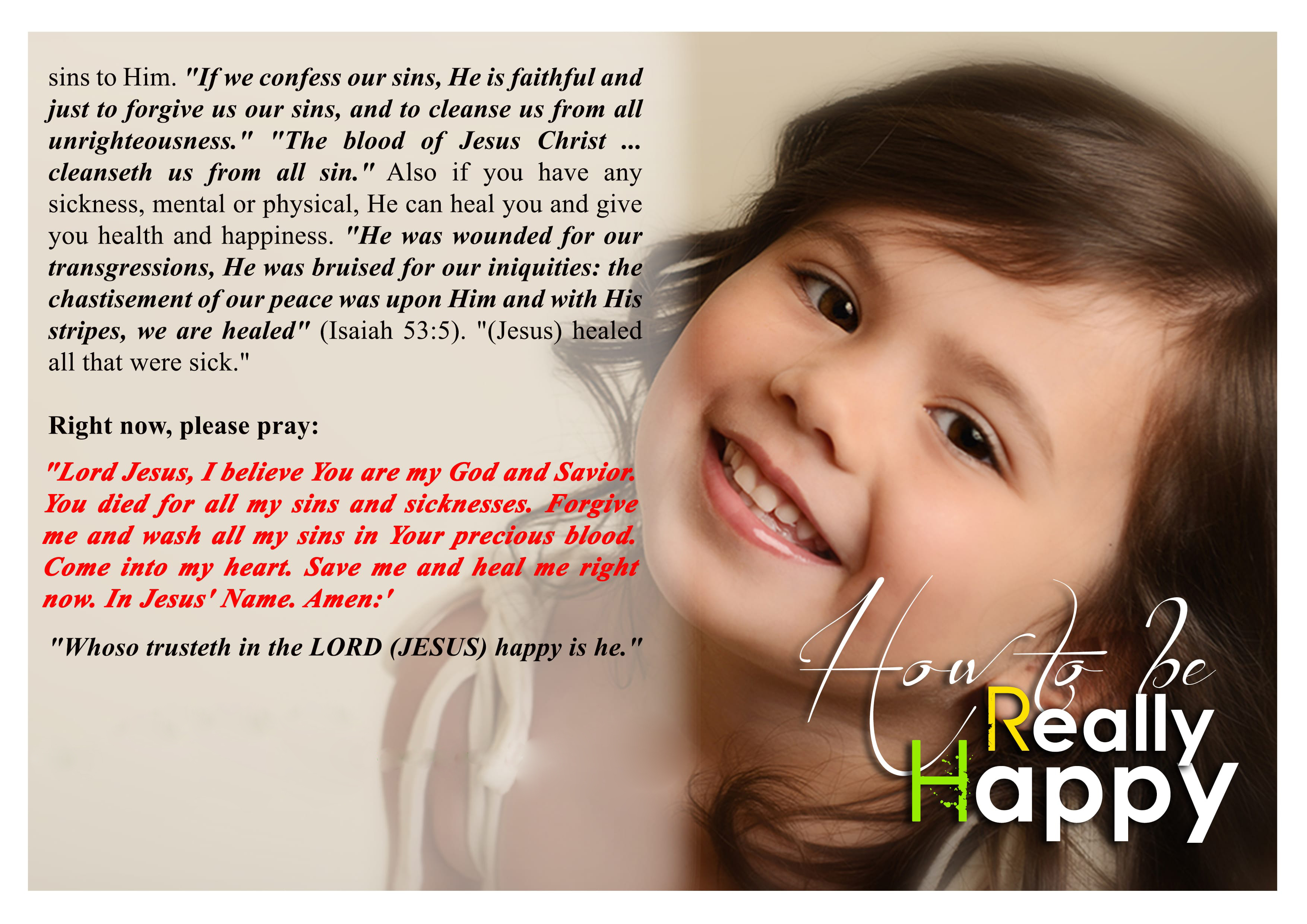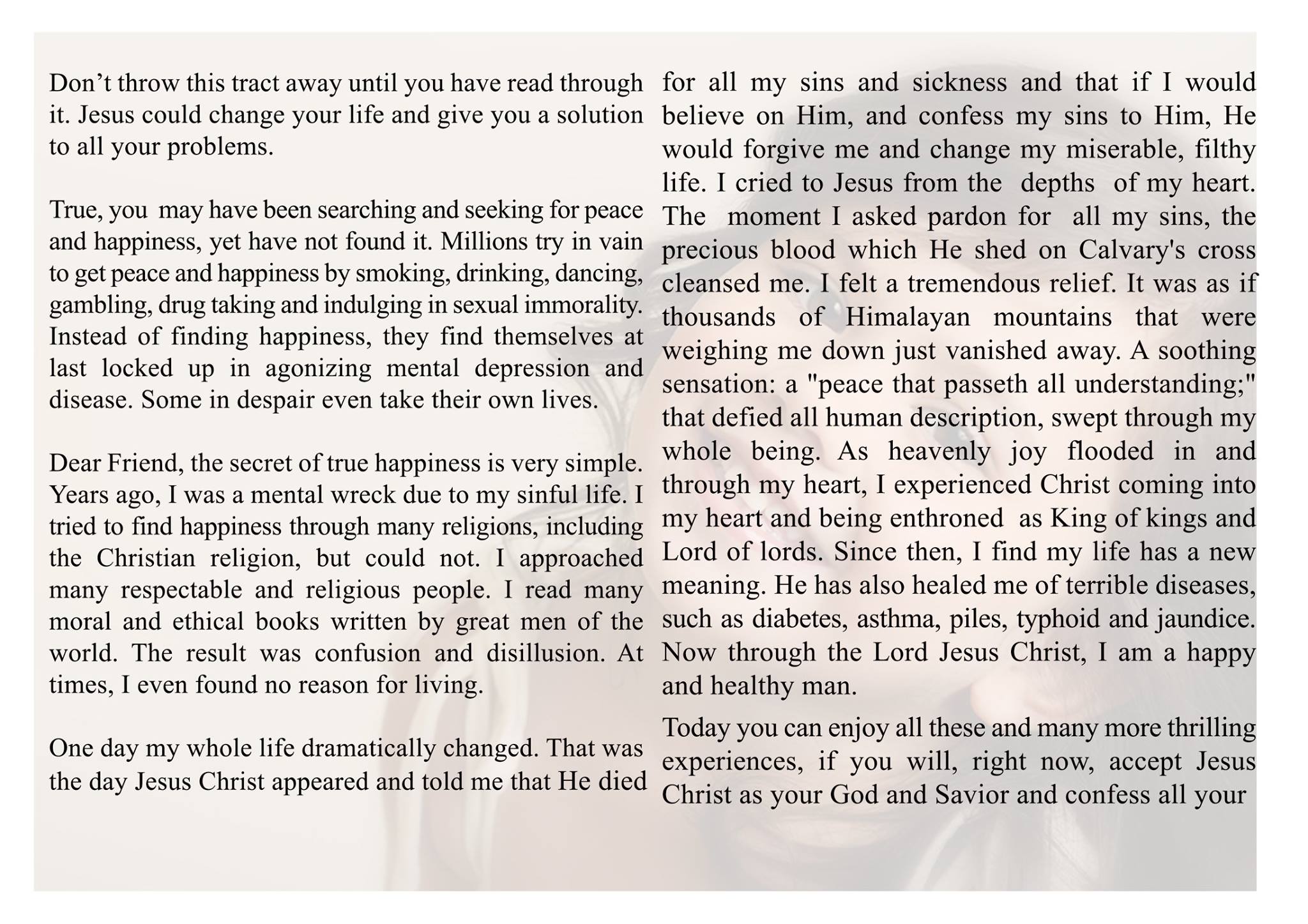 HOW TO BE REALLY HAPPY
Don't throw this tract away until you have read through it. Jesus could change your life and give you a solution to all your problems.
True, you  may have been searching and seeking for peace and happiness, yet have not found it. Millions try in vain to get peace and happiness by smoking, drinking, dancing, gambling, drug taking and indulging in sexual immorality. Instead of finding happiness, they find themselves at last locked up in agonizing mental depression and     disease. Some in despair even take their own lives.
Dear Friend, the secret of true happiness is very simple. Years ago, I was a mental wreck due to my sinful life. I tried to find happiness through many religions, including the Christian religion, but could not. I approached many respectable and religious people. I read many moral and ethical books written by great men of the world. The result was confusion and disillusion. At times, I even found no reason for living.
One day my whole life dramatically changed. That was the day Jesus Christ appeared and told me that He died for all my sins and sickness and that if I would       believe on Him, and confess my sins to Him, He would forgive me and change my miserable, filthy life. I cried to Jesus from the  depths  of my heart. The  moment I asked pardon for  all my sins, the   precious blood which He shed on Calvary's cross cleansed me. I felt a tremendous relief. It was as if thousands of Himalayan mountains that were weighing me down just vanished away. A soothing sensation: a "peace that passeth all understanding;" that defied all human description, swept through my whole being. As heavenly joy flooded in and through my heart, I experienced Christ coming into my heart and being enthroned as King of kings and Lord of lords. Since then, I find my life has a new meaning. He has also healed me of terrible diseases, such as diabetes, asthma, piles, typhoid and jaundice. Now through the Lord Jesus Christ, I am a happy and healthy man.
Today you can enjoy all these and many more thrilling experiences, if you will, right now, accept Jesus Christ as your God and Savior and confess all your  sins to Him. "If we confess our sins, He is faithful and just to forgive us our sins, and to cleanse us from all unrighteousness." "The blood of Jesus Christ … cleanseth us from all sin." Also if you have any      sickness, mental or physical, He can heal you and give you health and happiness. "He was wounded for our  transgressions, He was bruised for our iniquities: the chastisement of our peace was upon Him and with His stripes, we are healed" (Isaiah 53:5). "(Jesus) healed all that were sick."
Right now, please pray:  "Lord Jesus, I believe You are my God and Savior. You died for all my sins and sicknesses. Forgive me and wash all my sins in Your precious blood. Come into my heart. Save me and heal me right now. In Jesus' Name. Amen:'
"Whoso trusteth in the LORD (JESUS) happy is he."
You can find equivalent English tract @