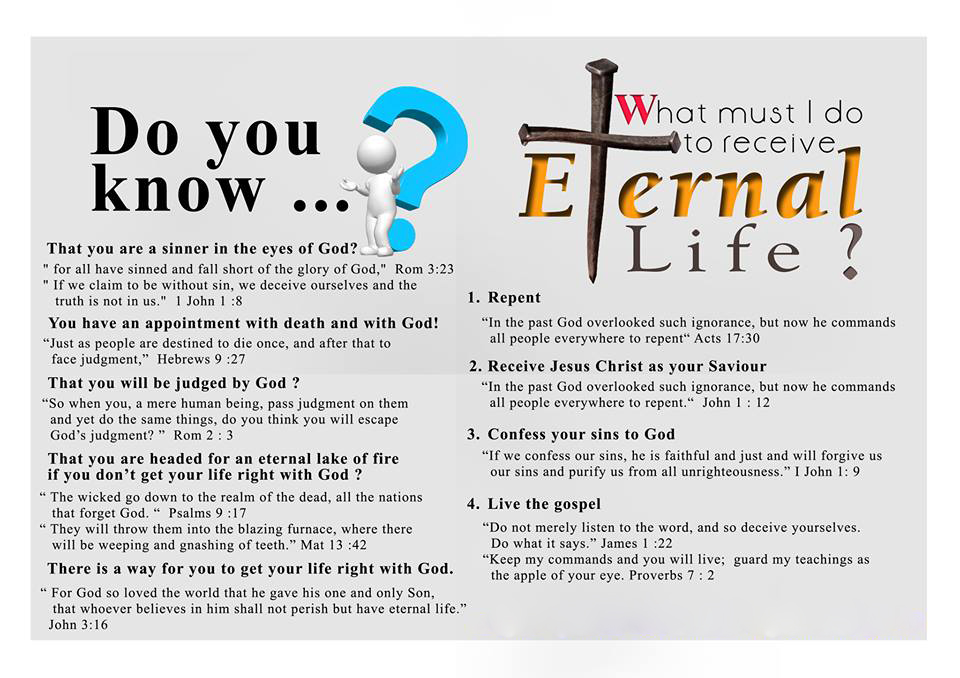 Do you know ? ..
That you are a sinner in the eyes of God?
"For all have sinned, and come short of the glory of God" Rom 3:23
"If we say that we have no sin, we deceive ourselves, and the truth is not in us."
1 John 1 :8
You have an appointment with death and with God!
"And as it is appointed unto men once to die, but after this the judgment." Hebrews 9 :27
That you will be judged by God ?
"And thinkest thou this, O man, that judgest them which do such things, and doest the same, that thou shalt escape the judgment of God?  Rom 2 : 3
That you are headed for an eternal lake of fire if you don't get your life right with God ?
" The wicked shall be turned into hell, and all the nations that forget God. " Psalms 9 :17
"And shall cast them into a furnace of fire: there shall be wailing and gnashing of teeth." Mat 13 :42
There is a way for you to get your life right with God.
"For God so loved the world, that he gave his only begotten Son, that whosoever believeth in him should not perish, but have everlasting life.." John 3:16
What must I do to receive eternal life ?
Repent
"And the times of this ignorance God winked at; but now commandeth all men every where to repent " Acts 17:30
2 . Receive Jesus Christ as your Saviour
"But as many as received him, to them gave he power to become the sons of God, even to them that believe on his name: " John 1 : 12
Confess your sins to God
"If we confess our sins, he is faithful and just to forgive us our sins, and to cleanse us from all unrighteousness." I John 1: 9
Live the gospel
"But be ye doers of the word, and not hearers only, deceiving your own selves." James 1 :22
Keep my commandments, and live; and my law as the apple of thine eye
Proverbs 7 : 2
You can find equivalent English tract @