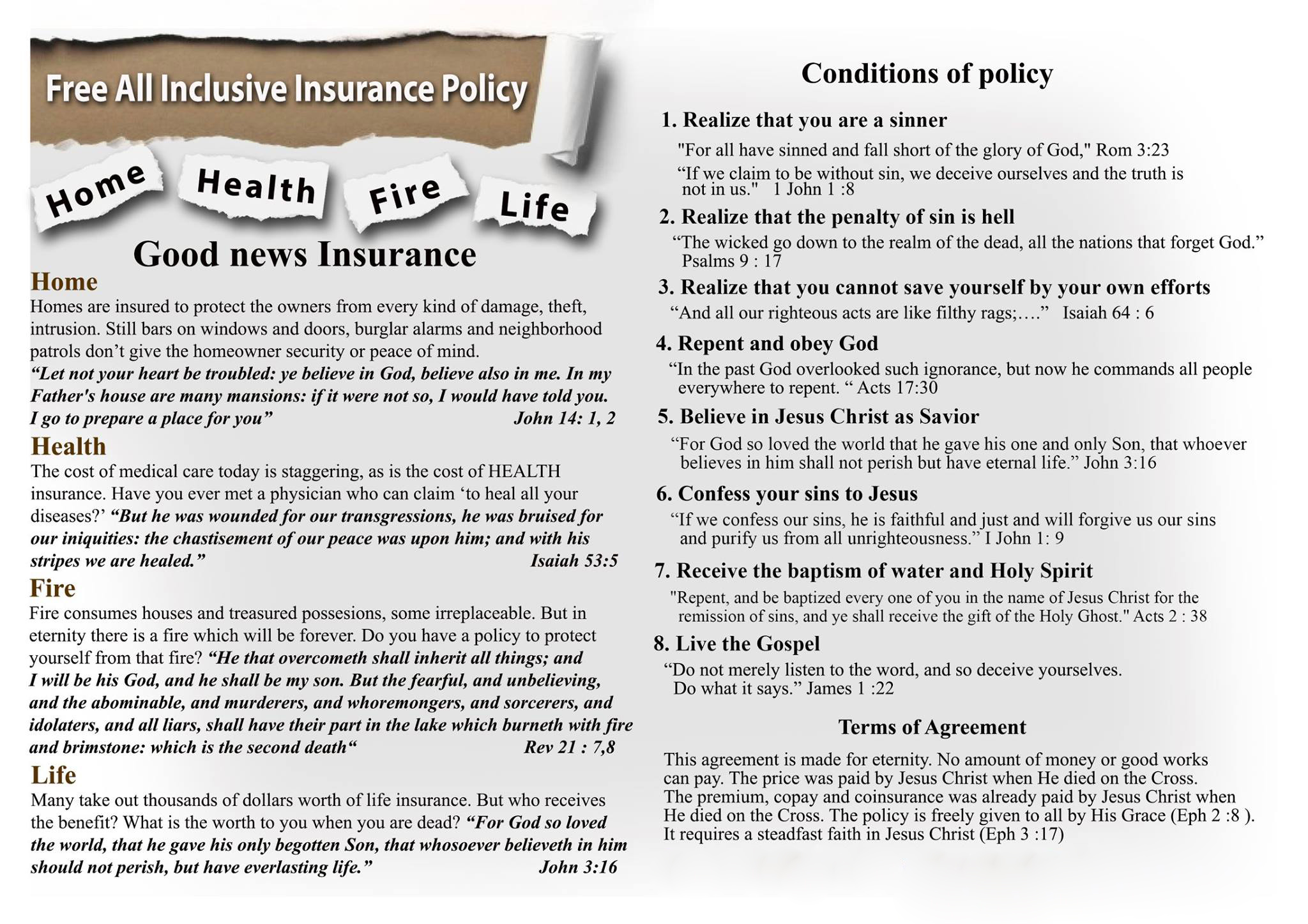 Free All Inclusive Insurance policy
Health
Home
Fire
Life
Good news Insurance
Health
The cost of medical care today is staggering, as is the cost of HEALTH insurance. Have you ever met a physician who can claim 'to heal all your diseases?'
"But he was wounded for our transgressions, he was bruised for our iniquities: the chastisement of our peace was upon him; and with his stripes we are healed." Isaiah 53:5
Home
Homes are insured to protect the owners from every kind of damage, theft, intrusion. Still bars on windows and doors, burglar alarms and neighborhood patrols don't give the homeowner security or peace of mind.
"Let not your heart be troubled: ye believe in God, believe also in me. In my Father's house are many mansions: if it were not so, I would have told you. I go to prepare a place for you" John 14: 1, 2
Fire
Fire consumes houses and treasured possesions, some irreplaceable. But in eternity there is a fire which will be forever. Do you have a policy to protect yourself from that fire?
"He that overcometh shall inherit all things; and I will be his God, and he shall be my son.
 But the fearful, and unbelieving, and the abominable, and murderers, and whoremongers, and sorcerers, and idolaters, and all liars, shall have their part in the lake which burneth with fire and brimstone: which is the second death " Rev 21 : 7,8
Life
Many take out thousands of dollars worth of life insurance. But who receives the benefit? What is the worth to you when you are dead?
"For God so loved the world, that he gave his only begotten Son, that whosoever believeth in him should not perish, but have everlasting life." John 3:16
Conditions of policy
Realize that you are a sinner
"For all have sinned and fall short of the glory of God," Rom 3:23
"If we claim to be without sin, we deceive ourselves and the truth is  not in us."   1 John 1 :8
Realize that the penalty of sin is hell
"The wicked go down to the realm of the dead, all the nations that forget God."   Psalms 9 : 17
Realize that you cannot save yourself by your own efforts
"And all our righteous acts are like filthy rags;…."   Isaiah 64 : 6
Repent and obey God
"In the past God overlooked such ignorance, but now he commands all people
everywhere to repent. " Acts 17:30
Believe in Jesus Christ as Savior
"For God so loved the world that he gave his one and only Son, that whoever
believes in him shall not perish but have eternal life." John 3:16
Confess your sins to Jesus
"If we confess our sins, he is faithful and just and will forgive us our sins  and purify us from all unrighteousness." I John 1: 9
Receive the baptism of water and Holy Spirit
"Repent, and be baptized every one of you in the name of Jesus Christ for the
remission of sins, and ye shall receive the gift of the Holy Ghost." Acts 2 : 38
Live the Gospel
"Do not merely listen to the word, and so deceive yourselves.  Do what it says." James 1 :22
Terms of Agreement
This agreement is made for eternity. No amount of money or good works can pay. The price was paid by Jesus Christ when He died on the Cross. The premium, copay and coinsurance was already paid by Jesus Christ when He died on the Cross. The policy is freely given to all by His Grace (Eph 2 :8 ). It requires a steadfast faith in Jesus Christ (Eph 3 :17)
You can find equivalent English tract @