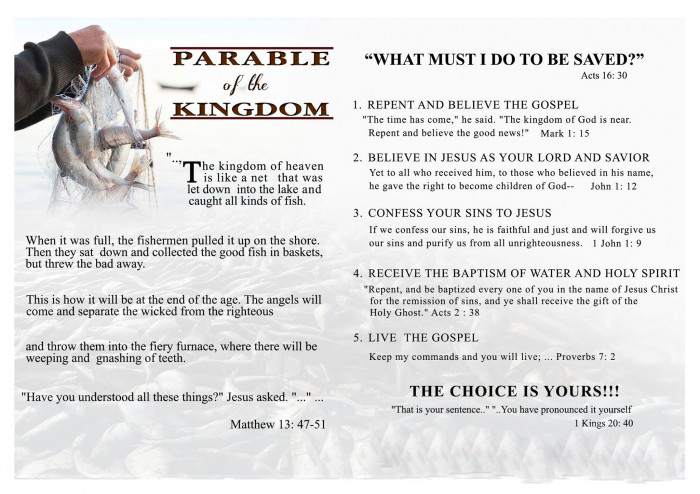 Parable of the kingdom
  "..,   The kingdom of heaven  is like a net   that was let down  into the lake and  caught all kinds of fish.
When it was full, the fishermen pulled it up on the shore. Then they sat  down and collected the good fish in baskets, but threw the bad away.
This is how it will be at the end of the age. The angels will come and separate the wicked from the righteous and throw them into the fiery furnace, where there will be weeping and  gnashing of teeth.
"Have you understood all these things?" Jesus asked. "…" … Matthew 13: 47-51
"WHAT MUST I DO TO BE SAVED?" Acts 16: 30
REPENT AND BELIEVE THE GOSPEL
"The time has come," he said. "The kingdom of God is near.  Repent and believe the good news!" Mark 1: 15
BELIEVE IN JESUS AS YOUR LORD AND SAVIOR
Yet to all who received him, to those who believed in his name, he gave the right to become children of God.  John 1: 12
CONFESS YOUR SINS TO JESUS
If we confess our sins, he is faithful and just and will forgive us our sins and purify us from all unrighteousness. 1 John 1: 9
RECEIVE THE BAPTISM OF WATER AND HOLY SPIRIT
"Repent, and be baptized every one of you in the name of Jesus Christ  for the remission of sins, and ye shall receive the gift of the  Holy Ghost." Acts 2 : 38
LIVE THE GOSPEL
Keep my commands and you will live; … Proverbs 7: 2
THE CHOICE IS YOURS!!!
"That is your sentence.." "..You have pronounced it yourself." 1 Kings 20: 40
You can find equivalent English tract @