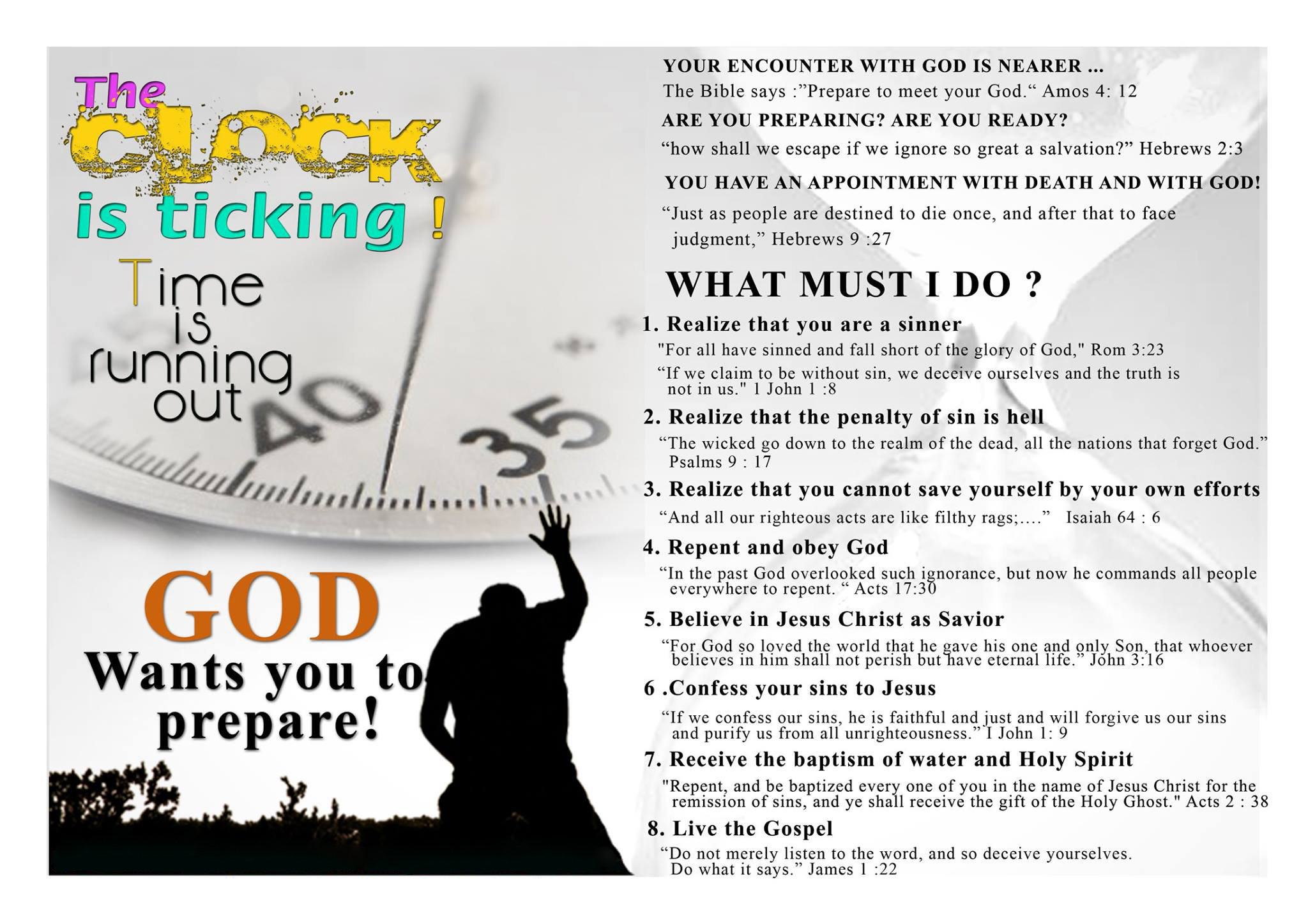 Your encounter with god is near….
The Bible says :" Prepare to meet thy God! " Amos 4: 12
Are you preparing? Are you ready?
"How shall we escape, if we neglect so great salvation?"  Hebrews 2:3
You have an appointment with death and with God!
"And as it is appointed unto men once to die, but after this the judgment." Hebrews 9 :27
God wants you to prepare!
What must I do ?
Realize that you are a sinner
"For all have sinned, and come short of the glory of God" Rom 3:23
"If we say that we have no sin, we deceive ourselves, and the truth is not in us." 1 John 1 :8
Realize that the penalty of sin is hell
"The wicked shall be turned into hell, and all the nations that forget God." Psalms 9 : 17
Realize that you cannot save yourself by your own efforts
"All our righteousnesses are as filthy rags…." Isaiah 64 : 6
Repent and obey God
"And the times of this ignorance God winked at; but now commandeth all men every where to repent " Acts 17:30
Believe in Jesus Christ as Savior
"For God so loved the world, that he gave his only begotten Son, that whosoever believeth in him should not perish, but have everlasting life.." John 3:16
6 . Confess your sins to Jesus
"If we confess our sins, he is faithful and just to forgive us our sins, and to cleanse us from all unrighteousness."  I John 1: 9
Live the Gospel
"But be ye doers of the word, and not hearers only, deceiving your own selves." James 1 :22
You can find equivalent English tract @