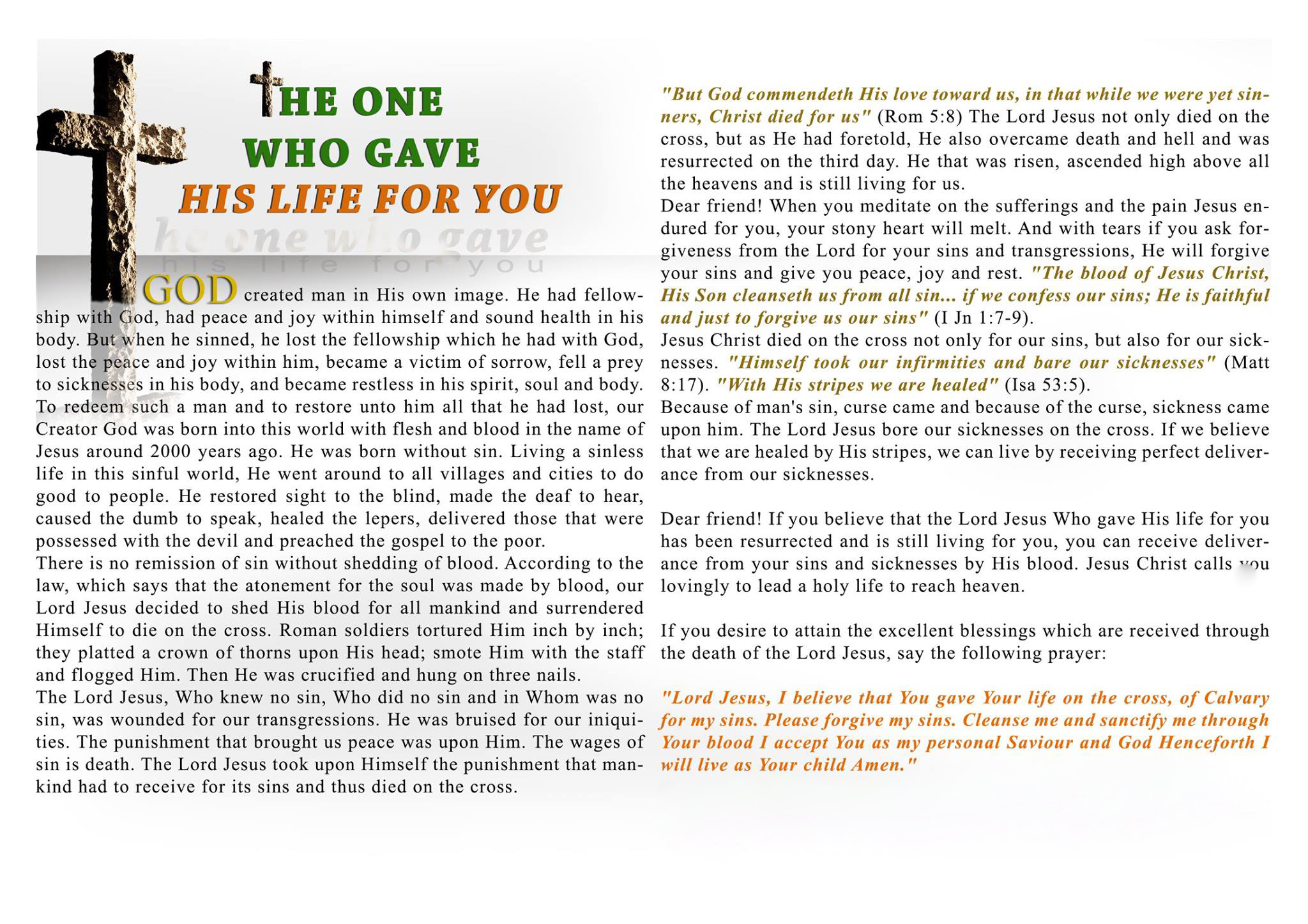 THE ONE WHO GAVE HIS LIFE FOR YOU
God created man in His own image. He had fellowship with God, had peace and joy within himself and sound health in his body. But when he sinned, he lost the fellowship which he had with God, lost the peace and joy within him, became a victim of sorrow, fell a prey to sicknesses in his body, and became restless in his spirit, soul and body. To redeem such a man and to restore unto him all that he had lost, our Creator God was born into this world with flesh and blood in the name of Jesus around 2000 years ago. He was born without sin. Living a sinless life in this sinful world, He went around to all villages and cities to do good to people. He restored sight to the blind, made the deaf to hear, caused the dumb to speak, healed the lepers, delivered those that were possessed with the devil and preached the gospel to the poor.
There is no remission of sin without shedding of blood. According to the law, which says that the atonement for the soul was made by blood, our Lord Jesus decided to shed His blood for all mankind and surrendered Himself to die on the cross. Roman soldiers tortured Him inch by inch; they platted a crown of thorns upon His head; smote Him with the staff and flogged Him. Then He was crucified and hung on three nails.
The Lord Jesus, Who knew no sin, Who did no sin and in Whom was no sin, was wounded for our transgressions. He was bruised for our iniquities. The punishment that brought us peace was upon Him. The wages of sin is death. The Lord Jesus took upon Himself the punishment that mankind had to receive for its sins and thus died on the cross.
"But God commendeth His love toward us, in that while we were yet sinners, Christ died for us" (Rom 5:8) The Lord Jesus not only died on the cross, but as He had foretold, He also overcame death and hell and was resurrected on the third day. He that was risen, ascended high above all the heavens and is still living for us.
Dear friend! When you meditate on the sufferings and the pain Jesus endured for you, your stony heart will melt. And with tears if you ask forgiveness from the Lord for your sins and transgressions, He will forgive your sins and give you peace, joy and rest. "The blood of Jesus Christ, His Son cleanseth us from all sin… if we confess our sins; He is faithful and just to forgive us our sins" (I John 1:7-9).
Jesus Christ died on the cross not only for our sins, but also for our sicknesses. "Himself took our infirmities and bare our sicknesses" (Matt 8:17). "With His stripes we are healed" (Isa 53:5).
Because of man's sin, curse came and because of the curse, sickness came upon him. The Lord Jesus bore our sicknesses on the cross. If we believe that we are healed by His stripes, we can live by receiving perfect deliverance from our sicknesses.
Dear friend! If you believe that the Lord Jesus Who gave His life for you has been resurrected and is still living for you, you can receive deliverance from your sins and sicknesses by His blood. Jesus Christ calls you lovingly to lead a holy life to reach heaven.
If you desire to attain the excellent blessings which are received through the death of the Lord Jesus, say the following prayer:
"Lord Jesus, I believe that You gave Your life on the cross, of Calvary for my sins. Please forgive my sins. Cleanse me and sanctify me through Your blood I accept You as my personal Savior and God Henceforth I will live as Your child Amen."
You can find equivalent English tract @