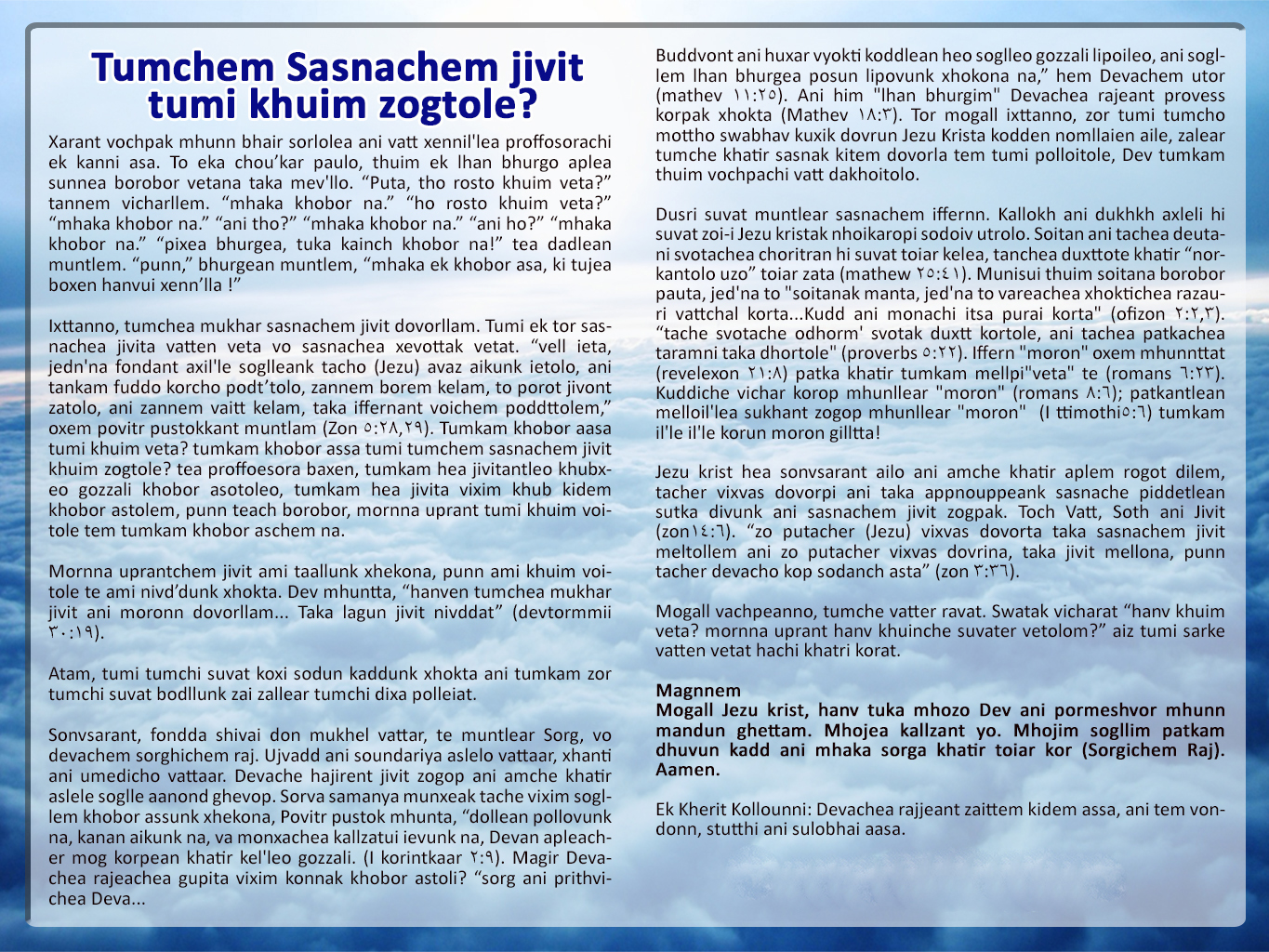 Xarant vochpak mhunn bhair sorlolea ani vatt xennil'lea proffosorachi ek kanni asa. To eka chou'kar paulo, thuim ek lhan bhurgo aplea sunnea borobor vetana taka mev'llo. "Puta, tho rosto khuim veta?" tannem vicharllem. "mhaka khobor na." "ho rosto khuim veta?" "mhaka khobor na." "ani tho?" "mhaka khobor na." "ani ho?" "mhaka khobor na." "pixea bhurgea, tuka kainch khobor na!" tea dadlean muntlem. "punn," bhurgean muntlem, "mhaka ek khobor asa, ki tujea boxen hanvui xenn'lla !"
Ixttanno, tumchea mukhar sasnachem jivit dovorllam. Tumi ek tor sasnachea jivita vatten veta vo sasnachea xevottak vetat. "vell ieta, jedn'na fondant axil'le soglleank tacho (Jezu) avaz aikunk ietolo, ani tankam fuddo korcho podt'tolo, zannem borem kelam, to porot jivont zatolo, ani zannem vaitt kelam, taka iffernant voichem poddttolem," oxem povitr pustokkant muntlam (Zon 5:28,29). Tumkam khobor aasa tumi khuim veta? tumkam khobor assa tumi tumchem sasnachem jivit khuim zogtole? tea proffoesora baxen, tumkam hea jivitantleo khubxeo gozzali khobor asotoleo, tumkam hea jivita vixim khub kidem khobor astolem, punn teach borobor, mornna uprant tumi khuim voitole tem tumkam khobor aschem na.
Mornna uprantchem jivit ami taallunk xhekona, punn ami khuim voitole te ami nivd'dunk xhokta. Dev mhuntta, "hanven tumchea mukhar jivit ani moronn dovorllam… Taka lagun jivit nivddat" (devtormmii 30:19).
Atam, tumi tumchi suvat koxi sodun kaddunk xhokta ani tumkam zor tumchi suvat bodllunk zai zallear tumchi dixa polleiat.
Sonvsarant, fondda shivai don mukhel vattar, te muntlear Sorg, vo devachem sorghichem raj. Ujvadd ani soundariya aslelo vattaar, xhanti ani umedicho vattaar. Devache hajirent jivit zogop ani amche khatir aslele soglle aanond ghevop. Sorva samanya munxeak tache vixim sogllem khobor assunk xhekona, Povitr pustok mhunta, "dollean pollovunk na, kanan aikunk na, va monxachea kallzatui ievunk na, Devan apleacher mog korpean khatir kel'leo gozzali. (I korintkaar 2:9). Magir Devachea rajeachea gupita vixim konnak khobor astoli? "sorg ani prithvichea Deva… Buddvont ani huxar vyokti koddlean heo soglleo gozzali lipoileo, ani sogllem lhan bhurgea posun lipovunk xhokona na," hem Devachem utor (mathev 11:25). Ani him "lhan bhurgim" Devachea rajeant provess korpak xhokta (Mathev 18:3). Tor mogall ixttanno, zor tumi tumcho mottho swabhav kuxik dovrun Jezu Krista kodden nomllaien aile, zalear tumche khatir sasnak kitem dovorla tem tumi polloitole, Dev tumkam thuim vochpachi vatt dakhoitolo.
Dusri suvat muntlear sasnachem iffernn. Kallokh ani dukhkh axleli hi suvat zoi-i Jezu kristak nhoikaropi sodoiv utrolo. Soitan ani tachea deutani svotachea choritran hi suvat toiar kelea, tanchea duxttote khatir "norkantolo uzo" toiar zata (mathew 25:41). Munisui thuim soitana borobor pauta, jed'na to "soitanak manta, jed'na to vareachea xhoktichea razauri vattchal korta…Kudd ani monachi itsa purai korta" (ofizon 2:2,3). "tache svotache odhorm' svotak duxtt kortole, ani tachea patkachea taramni taka dhortole" (proverbs 5:22). Iffern "moron" oxem mhunnttat (revelexon 21:8) patka khatir tumkam mellpi"veta" te (romans 6:23). Kuddiche vichar korop mhunllear "moron" (romans 8:6); patkantlean melloil'lea sukhant zogop mhunllear "moron"  (I ttimothi5:6) tumkam il'le il'le korun moron gilltta!
Jezu krist hea sonvsarant ailo ani amche khatir aplem rogot dilem, tacher vixvas dovorpi ani taka appnouppeank sasnache piddetlean sutka divunk ani sasnachem jivit zogpak. Toch Vatt, Soth ani Jivit (zon14:6). "zo putacher (Jezu) vixvas dovorta taka sasnachem jivit meltollem ani zo putacher vixvas dovrina, taka jivit mellona, punn tacher devacho kop sodanch asta" (zon 3:36).
Mogall vachpeanno, tumche vatter ravat. Swatak vicharat "hanv khuim veta? mornna uprant hanv khuinche suvater vetolom?" aiz tumi sarke vatten vetat hachi khatri korat.
Magnnem
Mogall Jezu krist, hanv tuka mhozo Dev ani pormeshvor mhunn mandun ghettam. Mhojea kallzant yo. Mhojim sogllim patkam dhuvun kadd ani mhaka sorga khatir toiar kor (Sorgichem Raj). Aamen.
Ek Kherit Kollounni: Devachea rajjeant zaittem kidem assa, ani tem vondonn, stutthi ani sulobhai aasa.
You can find equivalent English tract @