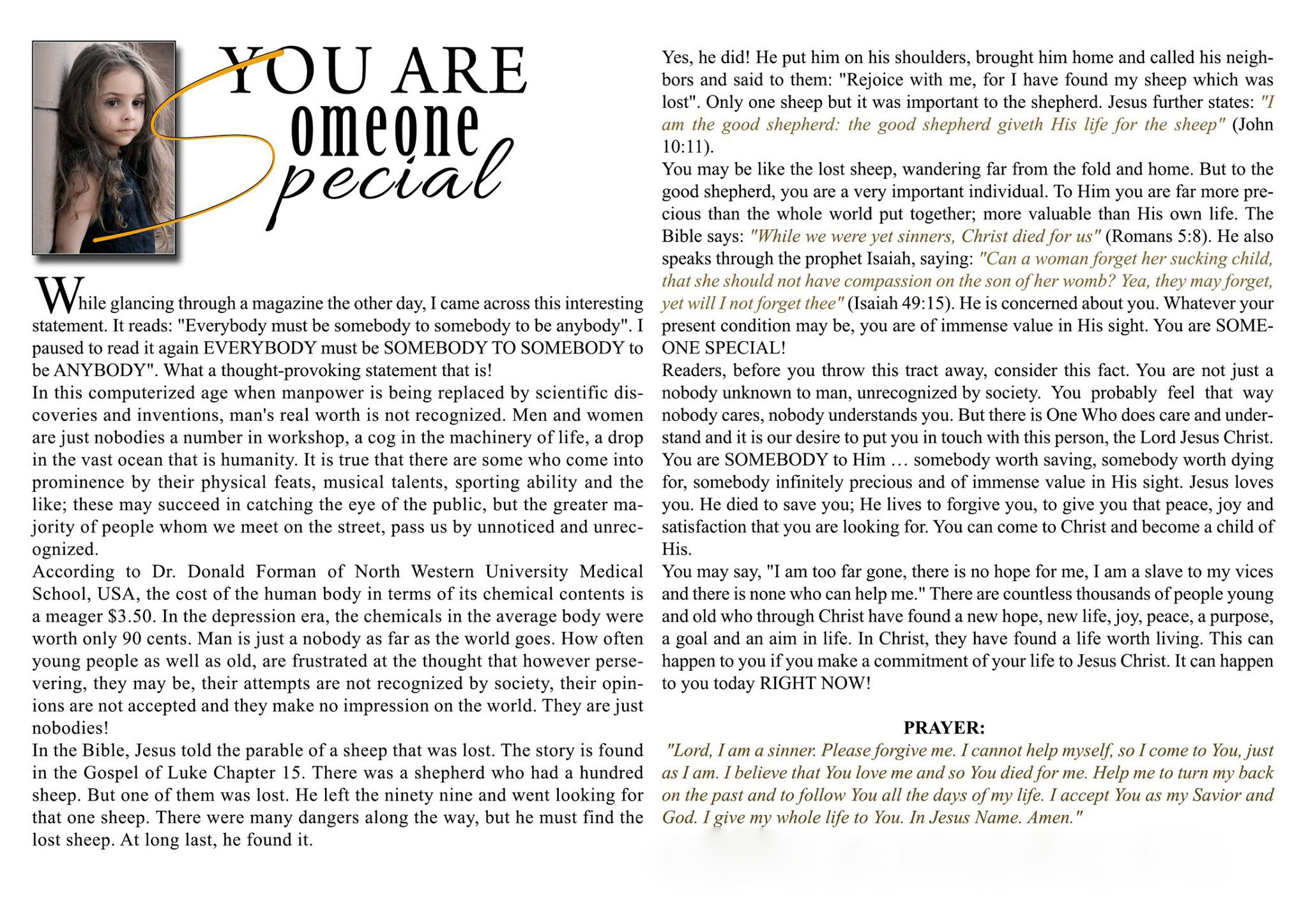 YOU ARE SOMEONE SPECIAL
While glancing through a magazine the other day, I came across this interesting statement. It read: "Everybody must be somebody to somebody, to be anybody". I paused read it again" EVERY BODY must   be SOMEBODY   TO   SOMEBODY to   be   ANY BODY". What a thought provoking statement that is!
In this computerized age when manpower is being replaced by scientific discoveries and inventions, man's real worth is not recognized. Men and women are just nobodies-a number in work shop, a cog in the machinery of life, a drop in the vast ocean that is humanity. It is true that there are some who come into prominence by their physical feats, musical talents, sporting ability and the like; these may succeed in catching the eye of the public, but the greater majority of people whom we meet on the street, pass us by unnoticed and unrecognized.
According to Dr. Donald Forman of North Western University Medical School, USA , the cost of the human body in terms of its chemical contents is a meagre $3.50. In the depression era, the chemicals in the average body were worth only 90 cents. Man is just a nobody as far as the world goes. How often young people as well as old, are frustrated at the thought that however persevering they may be, their attempts are not recognized by society, their opinions are not accepted and they make no impression on the world. They are just nobodies!
In the Bible, Jesus told the parable of a sheep that was lost. The story is found in the Gospel of Luke Chapter 15. There was a shepherd who had a hundred sheep. But one of them was lost. He left the ninety nine and went looking for that one sheep. There were many dangers along the way, but he must find the lost sheep. At long last, he found it. Yes, he did! He put him on his shoulders, brought him home and called his neighbors and said to them: "Rejoice with me, for I have found my sheep which was lost". Only one sheep but it was important to the shepherd. Jesus further states: "I am the good shepherd: the good shepherd giveth His life for the sheep" (John 10:11).
You may be like the lost sheep, wandering far from the fold and home. But to the good shepherd, you are a very important individual.  To Him you are far more precious than the whole world put together; more valuable than His own life. The Bible says: "While we were yet sinners, Christ died for us" (Romans 5:8). He also speaks through the prophet Isaiah saying: "Can a woman forget her sucking child, that she should not have compassion on the son of her womb? Yea, they may forget, yet will I not forget thee" (Isaiah 49: 15). He is concerned about you. Whatever your present condition may be, you ate of immense
value in His sight. You are SOMEONE SPECIAL!
Reader, before you throw this tract away, consider this fact. You are not just a nobody unknown to man, unrecognized by society. You probably feel that way-nobody cares, nobody understands you. But there is One Who does care and understand and it is our desire to put you in touch with this person, the Lord Jesus Christ. You .are SOMEBODY to Him  somebody worth saving, somebody worth dying for, somebody infinitely precious and of immense value in His sight. Jesus loves you. He died to save you; He lives to forgive you, to give you that peace, joy and satisfaction that you are looking for. You can collie to Christ and become a child of His.
You may say, "I am too far gone, there is no hope for me, I am a slave to my vices and there is none who can help me." There are countless thousands of people-young and old-who through Christ have found a new hope, new life, joy , peace, a purpose, a goal and an aim in life. In Christ, they have found a life worth living. This can happen to you if you make a commitment of your life to Jesus Christ. It can happen to you today­ RIGHT. NOW!
PRAYER: "Lord, I am a sinner. Please forgive me. I cannot help myself, so I come to You just as I am. I believe that You love me and so You died for me. Help me to turn my back on the past and to follow You all the days of my life. I accept You as my Savior and God. I give my whole life to You. In Jesus' Name. Amen."
You can find equivalent English tract @