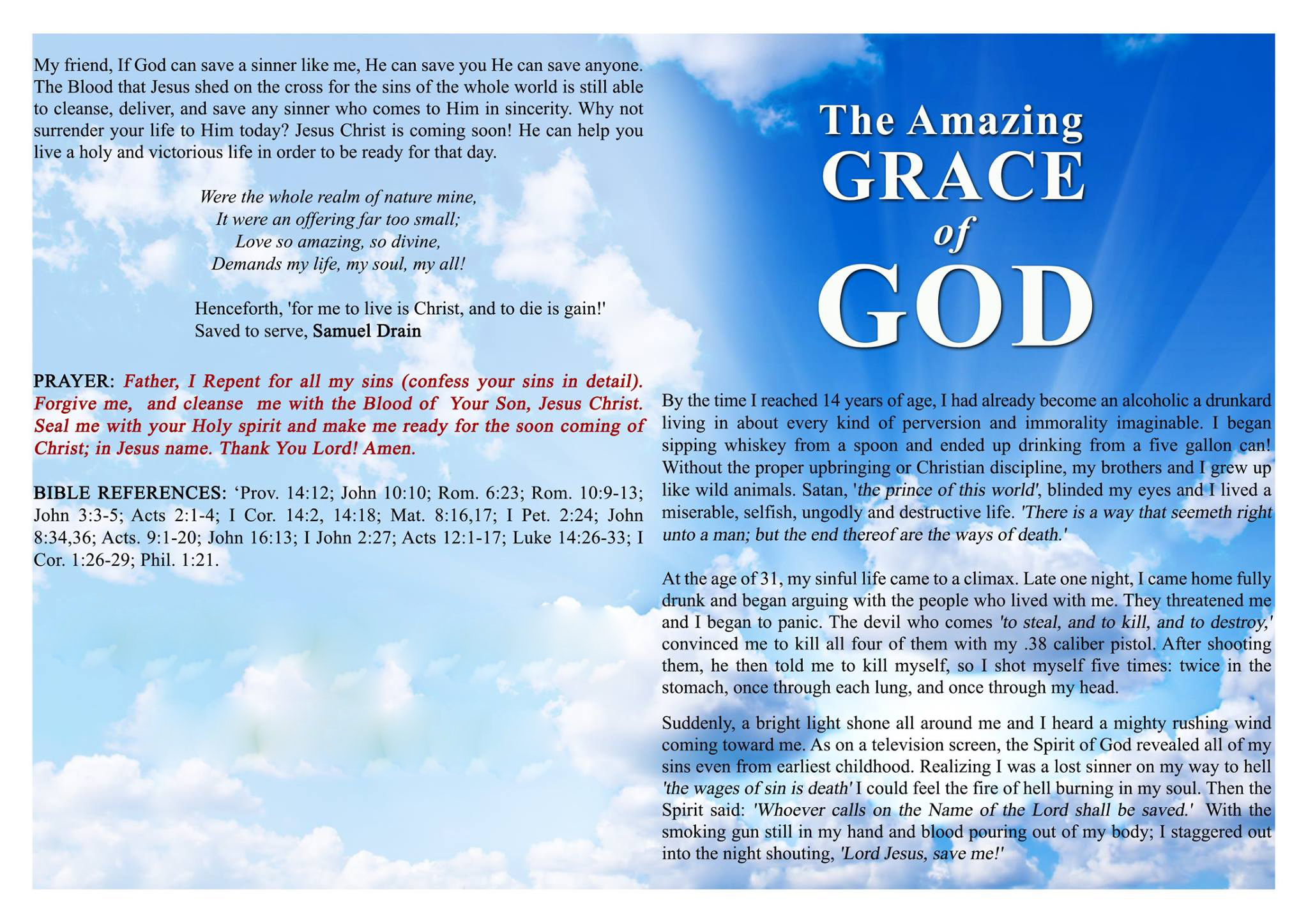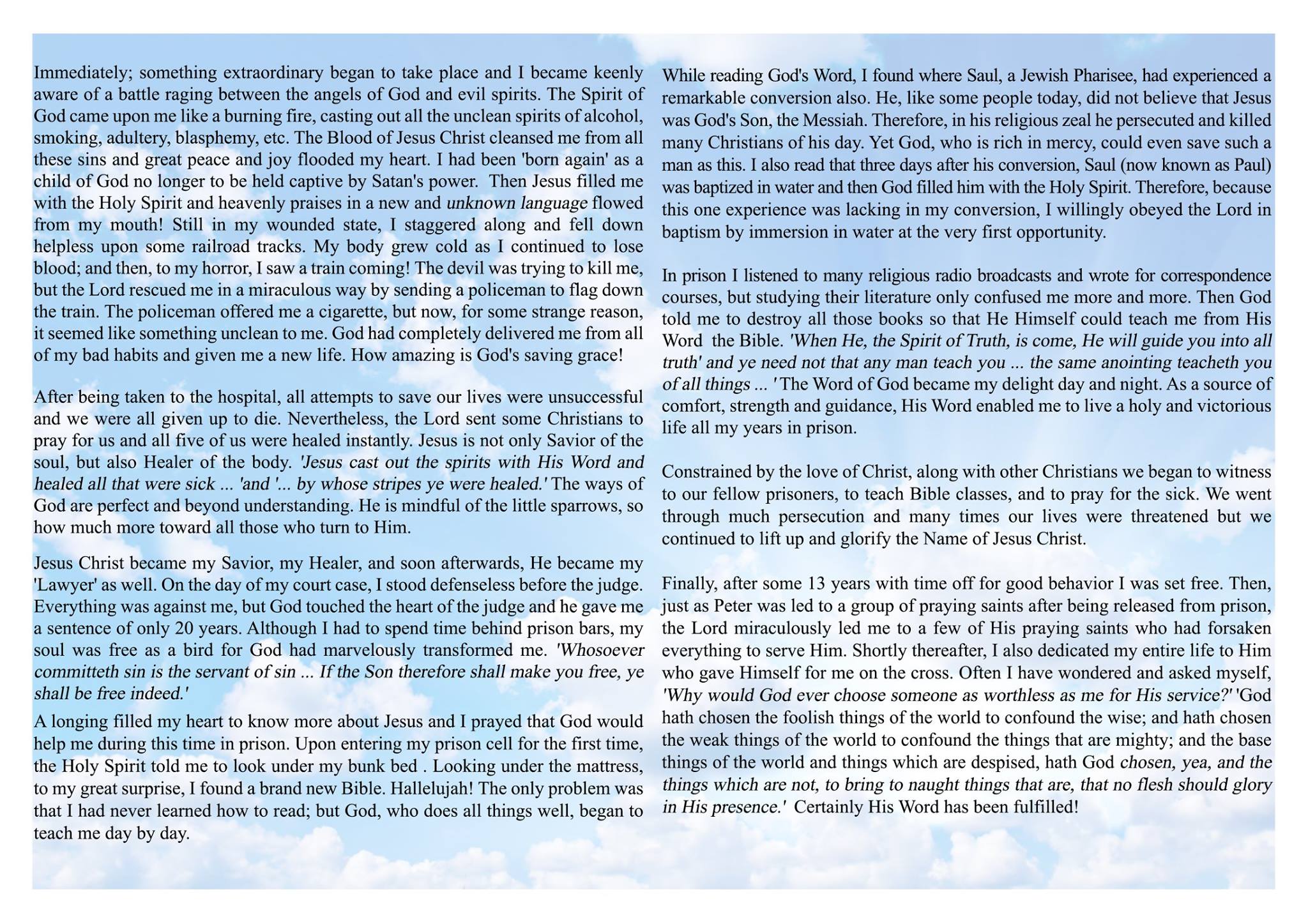 THE AMAZING GRACE OF GOD
By the time I reached 14 years of age, I had already become an alcoholic a drunkard living in about every kind of perversion and immorality imaginable. I began       sipping whiskey from a spoon and ended up drinking from a five gallon can!   Without the proper upbringing or Christian discipline, my brothers and I grew up like wild animals. Satan, 'the prince of this world', blinded my eyes and I lived a miserable, selfish, ungodly and destructive life. 'There is a way that seemeth right unto a man; but the end thereof are the ways of death.'
At the age of 31, my sinful life came to a climax. Late one night, I came home fully drunk and began arguing with the people who lived with me. They threatened me and I began to panic. The devil who comes 'to steal, and to kill, and to destroy,' convinced me to kill all four of them with my .38 caliber pistol. After shooting them, he then told me to kill myself, so I shot myself five times: twice in the      stomach, once through each lung, and once through my head.
Suddenly, a bright light shone all around me and I heard a mighty rushing wind coming toward me. As on a television screen, the Spirit of God revealed all of my sins even from earliest childhood. Realizing I was a lost sinner on my way to hell 'the wages of sin is death' I could feel the fire of hell burning in my soul. Then the Spirit said: 'Whoever calls on the Name of the Lord shall be saved.'  With the smoking gun still in my hand and blood pouring out of my body; I staggered out into the night shouting, 'Lord Jesus, save me!'
Immediately; something extraordinary began to take place and I became keenly aware of a battle raging between the angels of God and evil spirits. The Spirit of God came upon me like a burning fire, casting out all the unclean spirits of alcohol, smoking, adultery, blasphemy, etc. The Blood of Jesus Christ cleansed me from all these sins and great peace and joy flooded my heart. I had been 'born again' as a child of God no longer to be held captive by Satan's power.  Then Jesus filled me with the Holy Spirit and heavenly praises in a new and unknown language flowed from my mouth! Still in my wounded state, I staggered along and fell down      helpless upon some railroad tracks. My body grew cold as I continued to lose blood; and then, to my horror, I saw a train coming! The devil was trying to kill me, but the Lord rescued me in a miraculous way by sending a policeman to flag down the train. The policeman offered me a cigarette, but now, for some strange reason, it seemed like something unclean to me. God had completely delivered me from all of my bad habits and given me a new life. How amazing is God's saving grace!
After being taken to the hospital, all attempts to save our lives were unsuccessful and we were all given up to die. Nevertheless, the Lord sent some Christians to pray for us and all five of us were healed instantly. Jesus is not only Savior of the soul, but also Healer of the body. 'Jesus cast out the spirits with His Word and healed all that were sick … 'and '… by whose stripes ye were healed.' The ways of God are perfect and beyond understanding. He is mindful of the little sparrows, so how much more toward all those who turn to Him.
Jesus Christ became my Savior, my Healer, and soon afterwards, He became my 'Lawyer' as well. On the day of my court case, I stood defenseless before the judge. Everything was against me, but God touched the heart of the judge and he gave me a sentence of only 20 years. Although I had to spend time behind prison bars, my soul was free as a bird for God had marvelously transformed me. 'Whosoever committeth sin is the servant of sin … If the Son therefore shall make you free, ye shall be free indeed.'
A longing filled my heart to know more about Jesus and I prayed that God would help me during this time in prison. Upon entering my prison cell for the first time, the Holy Spirit told me to look under my bunk bed. Looking under the mattress, to my great surprise, I found a brand new Bible. Hallelujah! The only problem was that I had never learned how to read; but God, who does all things well, began to teach me day by day.
While reading God's Word, I found where Saul, a Jewish Pharisee, had experienced a remarkable conversion also. He, like some people today, did not believe that Jesus was God's Son, the Messiah. Therefore, in his religious zeal he persecuted and killed many Christians of his day. Yet God, who is rich in mercy, could even save such a man as this. I also read that three days after his conversion, Saul (now known as Paul) was baptized in water and then God filled him with the Holy Spirit. Therefore, because this one experience was lacking in my conversion, I willingly obeyed the Lord in baptism by immersion in water at the very first opportunity.
In prison I listened to many religious radio broadcasts and wrote for correspondence courses, but studying their literature only confused me more and more. Then God told me to destroy all those books so that He Himself could teach me from His Word the Bible. 'When He, the Spirit of Truth, is come, He will guide you into all truth' and ye need not that any man teach you … the same anointing teacheth you of all things … ' The Word of God became my delight day and night. As a source of comfort, strength and guidance, His Word enabled me to live a holy and victorious life all my years in prison.
Constrained by the love of Christ, along with other Christians we began to witness to our fellow prisoners, to teach Bible classes, and to pray for the sick. We went through much persecution and many times our lives were threatened but we      continued to lift up and glorify the Name of Jesus Christ.
Finally, after some 13 years with time off for good behavior I was set free. Then, just as Peter was led to a group of praying saints after being released from prison,  the Lord miraculously led me to a few of His praying saints who had forsaken     everything to serve Him. Shortly thereafter, I also dedicated my entire life to Him who gave Himself for me on the cross. Often I have wondered and asked myself, 'Why would God ever choose someone as worthless as me for His service?' 'God hath chosen the foolish things of the world to confound the wise; and hath chosen the weak things of the world to confound the things that are mighty; and the base things of the world and things which are despised, hath God chosen, yea, and the things which are not, to bring to naught things that are, that no flesh should glory in His presence.'  Certainly His Word has been fulfilled!
My friend, If God can save a sinner like me, He can save you He can save anyone. The Blood that Jesus shed on the cross for the sins of the whole world is still able to cleanse, deliver, and save any sinner who comes to Him in sincerity. Why not surrender your life to Him today? Jesus Christ is coming soon! He can help you live a holy and victorious life in order to be ready for that day.
Were the whole realm of nature mine,
It were an offering far too small;
Love so amazing, so divine,
Demands my life, my soul, my all!
Henceforth, 'for me to live is Christ, and to die is gain!'
Saved to serve, Samuel Drain
PRAYER: Father, I Repent for all my sins (confess your sins in detail).  Forgive me, and cleanse me with the Blood of Your Son, Jesus Christ. Seal me with your Holy spirit and make me ready for the soon coming of Christ; in Jesus name. Thank You Lord! Amen.
BIBLE REFERENCES: 'Prov. 14:12; John 10:10; Rom. 6:23; Rom. 10:9-13; John 3:3-5; Acts 2:1-4; I Cor. 14:2, 14:18; Mat. 8:16, 17; I Pet. 2:24; John 8:34,36; Acts. 9:1-20; John 16:13; I John 2:27; Acts 12:1-17; Luke 14:26-33; I Cor. 1:26-29; Phil. 1:21.
You can find equivalent English tract @